Filter by Category
New Testament Survey: Encountering the NT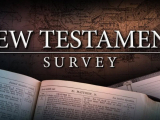 Registration Unavailable
*New Testament Survey: Encountering the NT/LIVE
with Dr. Brian Huffling

Aug 26, 2021 at 11 am

, runs for 30 weeks
*Easy Payment Plans: $46/month *(details below)
Grades: 9th-12th & adult
Teacher-Led & Graded:
Live: Weekly THURSDAYS 11:00 AM -12:15 PM ET, or
Flexible Class Schedule Option:

If you cannot attend the live class, that's ok. Register here for the LIVE class, notify the teacher that the day/time does not fit your schedule. When classes begin, you will watch the recording (within a day or 2 of the Live class). You have full access to the teacher and Student Portal and are accountable to meet class deadlines exactly like LIVE students. You can attend any LIVE class when able if you contact your teacher.
Course Dates: August 26-May 12
Cost: $328 (+$50 registration fee, not refundable)
Discounts: Promo Codes HERE
Instructor: 
Dr. Brian Huffling, M.A. Apologetics, Ph.D.
email: DrHuffling@Apologia.com
More Information: Prerequisites: None
CLASS SUMMARY: This course will provide a basic overview of the history of Israel and the Old Testament in preparation for the New Testament. Attention will focus on the message of the NT books, but issues such as authorship and date will also be discussed. There will also be an apologetic emphasis on the reliability of the NT.
REQUIRED TEXTS:
Elwell, Walter A., and Robert W. Yarbrough. Encountering the New Testament: AHistorical and Theological Survey. 3rd edition. Grand Rapids, MI: BakerAcademic, 2013.
An essentially literal translation of the Bible, such as the NKJV, ESV, NASB.While the NIV is not an essentially literal translation, it is acceptable.
*Approximate amount if registered by March 31, 2021. Payment plans will vary based on your registration date. Final payment due on or before Oct. 31, 2021. You may request a custom payment schedule AFTER you register.