Filter by Category
Essential Apologetics: Defending Creation
Registration Unavailable
*ESSENTIAL APOLOGETICS: DEFENDING CREATION/Rec
with Mr. Larry Blythe

Aug 29, 2019

, runs for 30 weeks
*RECORDED/GRADED (Prerequisites: none - Recommend Grades: 7th-12th): This course will expose the false premise behind many evolutionary theories including origins of life, walking whales, fossil evidence, and other fishy fallacies that fossilize evolutionists in their tracks...(more info/teacher bio)  ADD PROMO CODE
CLASS TUITION:  $358
*REGISTRATION FEE:  $27.50 + $2.50 (CourseStorm fee)=$30.00
(total cost = both above minus appropriate discounts)
(NON-USA Customers: CLICK for important registration information)
*Will run ONLY if LIVE class runs
*Registration fee is non-refundable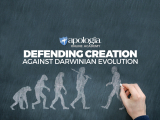 Registration Unavailable
*ESSENTIAL APOLOGETICS: DEFENDING CREATION
with Mr. Larry Blythe

Aug 29, 2019 at 11:30 am

, runs for 30 weeks
LIVE/GRADED THURSDAYS 11:30-12:45 PM ET (Prerequisites: none - Recommend Grades: 7th-12th): Learn the false premise behind evolutionary theories: origins of life, walking whales, fossil evidence, and other fishy fallacies from evolutionists...(more info/teacher bio) PROMOS CODES HERE
*CLASS TUITION:  $358
*REGISTRATION FEE:  $27.50 + $2.50 (CourseStorm fee)=$30.00
(total cost = both above minus appropriate discounts)
(NON-USA Customers: see FAQs #17 for important registration information)
*Registration fee is non-refundable.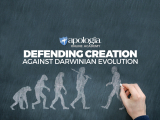 THE GENESIS ACADEMY: Genesis 1-11
with Mr. Larry Blythe

Jan 9, 2020 at 11:30 am

, runs for 15 weeks
LIVE/GRADED THURSDAYS 11:30-12:45 PM ET (Prerequisites: none - Recommend Grades: 7th-12th): 
We all know that the skeptical attacks on Christianity are very much focused on the book of Genesis, and that many believe the alleged 'science' of evolution has proven the Bible's history as nothing more than a collection of myths. As a result, many churches, pastors and homeschool families have requested an extended teaching series that helps to better equip themselves on these foundational Genesis chapters.
Apologia Online Academy in partnership with Creation Ministries International (Creation.com)  STUDY GUIDE that is absolutely free, and you can download and print as many copies as you like so your group can easily follow along.(more info/teacher bio) PROMOS CODES HERE
*CLASS TUITION:  $180
*REGISTRATION FEE:  $10.00 + $2.50 (CourseStorm fee)=$12.50
(total cost = both above minus appropriate discounts)
(NON-USA Customers: see FAQs #17 for important registration information)
*Registration fee is non-refundable.